The Blacksmith Mural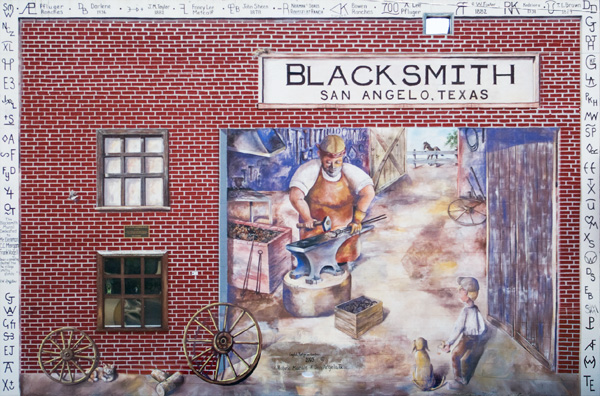 32' wide x 18' high
The 32-by-18-foot Blacksmith Shop mural is located on the east wall of the Concho Confetti Mall building located at the corner of Concho Avenue and Oakes Street in downtown San Angelo. This painting represents a general blacksmith shop of the 1800s and features a burly blacksmith working with his hammer and tongs on a large anvil next to his forge. The wooden box filled with horseshoes and the wagon wheels leaning against the front of the building are reminders of just two of the blacksmiths' many jobs.

While shoeing horses was their primary work, experienced blacksmiths also made farm implements and tools, such as plows, hammers, saws and axes, as well as bolts, hooks and even jail bars and shackles. They repaired all types of equipment, and many used old pieces of equipment to forge new bridle bits, spurs and other items the cowboys needed or wanted. Young boys, many pre-teens, worked as apprentices and made all sizes of nails until the "naileries" factories opened. Specialist ironsmiths included locksmiths, gunsmiths and wheelwrights, who made and repaired wagon wheels.

The attentive boy and his dog in the mural might represent how the blacksmith was considered a role model because of how hard he worked to balance his job, family and community responsibilities. In 1840, Henry Wadsworth Longfellow wrote the poem titled "The Village Blacksmith" in tribute to his neighbor, blacksmith Dexter Pratt. This was a popular poem taught in elementary schools in the 1950s. Be sure and click the preceding link for a printable copy of the entire poem.

The blacksmith mural is surrounded with historic registered brands of early West Texas ranchers. Mural artist Crystal Goodman did extensive research on registered brands and blacksmith shops to make sure everything in the mural is historically accurate. And as is her trademark, she cleverly included several familiar little critters on the outside wall of the shop.

Frank Vogel, son of 98-year old Frank N. Vogel, who began operating the Vogel Blacksmith Shop in 1929, shared his and his father's knowledge about the arrangement of the inside of the shop. Frank's brother, Walter, and the late Bert C. Morgan, whose father opened a blacksmith shop on Oakes Street, also shared information about the original Morgan Blacksmith Shop building. While the mural was being painted, Morgan frequently checked on the progress. Here is an excerpt from a letter he wrote following one of those visits on June 17, 2003:

"Yesterday, I went to check on the progress on the painting, and to my great surprise, there stood a small blond boy and his dog in the painting watching the blacksmith as he worked. I was a towheaded kid in my youth and blond until I lost most of my hair. As I gazed at the painting, a strange feeling came over me. I had a compelling urge to walk through the old weather-beaten door in the blacksmith shop and, like Alice through the looking glass, step 80 years back in time to my youth. I could not do that physically, but through the power of the mind, I did and revisited a wonderful period in my life, for which I am truly grateful. Thank you Historic Murals of San Angelo and thank you Crystal Goodman."

Morgan also attended the mural dedication ceremony as a special guest on Sept. 27, 2003. He died at age 96 on Sept. 20, 2014. Click this link for a full copy of his personal letter.

The John E. Conner Museum at Texas A&M University-Kingsville has an extensive collection of blacksmith, farrier and wheelwright tools that includes more than 100 different tongs, farm machinery designed to be drawn by mules, hand tools, ranching tools, and equipment ranging from fence stretchers to a chuckwagon. The American Blacksmith website also has many photographs and articles that feature forges, bellows, and blowers.